x
Nuestra Tierra is an innovatory polo project whose philosophy merges with tradition and contemporary lifestyle. It is dedicated to a polo loving family that enjoys nature, design and architecture.
The traditional sheet metal shed was the inspirational backbone to the project. Taking into account the rural context and searching not to impose upon the natural conditions, creating a simple and homogenous architecture was fundamental.

The building scale looks for a harmonious place in relation to its context in the more than 4500 sqm built, the main idea being the balance between the tree lines, the polo fields and the dimension of the roofs of the stalls, these roofs playing an important role in protecting the horses from weather conditions.

The project was planned in terms of functionality and practicality.

The result has been a perfect balance between a contemporary and functional architecture with an esthetic that respects and highlights its context...

It is situated in Open Door, 70 km from Buenos Aires. In its 50 hectares were built :

2 first class Tifton polo fields
1 stick and ball Tifton field
1 exercise track
1 arena polo
64 stalls
8 open stalls
2 tack rooms
1 manager house
2 twin 3 bedroom houses
2 sheds
2 storage pits

Nuestra Tierra : the « friendly polo » concept where for the first time nature and design merge.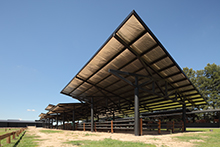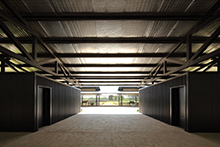 view photos...